Bravo for The Little Jet Company
It is an exciting time for us at The Little Jet Company. We have recently celebrated our fifth birthday. We have also doubled the number of staff in the past year and we have welcomed another aircraft to the fleet.
The Little Jet Company was set up by our Directors, Jason Bishop and Barry Preece who met at school.
The friends share a love of aviation and enjoyed spending time at the airport as children. They both became pilots and then worked around the clock to get The Little Jet Company off the ground in 2014.
Since then thousands of people have chosen to fly with us for business and leisure, including well known celebrities.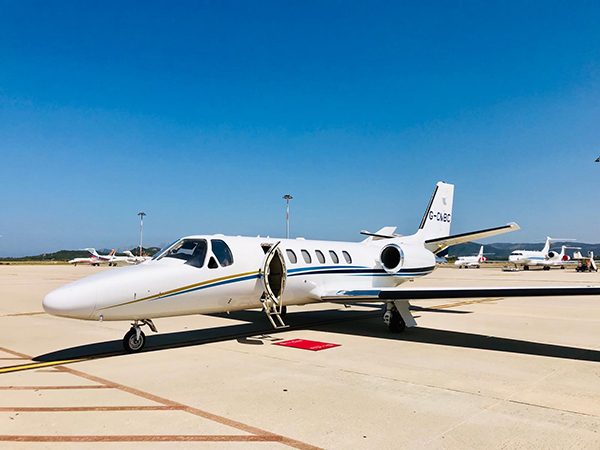 In 2018 we opened a new office and a dedicated passenger lounge.
We have increased capacity by welcoming a third Citation Bravo to their fleet.
"We are looking forward to the future," said Barry.
"I'm very proud of our fantastic team who go above and beyond to ensure customer satisfaction."
The private jets are able to provide comfortable, safe, and secure flights for family holidays. Businessmen can save time by having airside access allowing them to drive right up to the aircraft. The aircrafts are scheduled to tailor for their personal schedules and they can even hold meetings on board.
"Our clients expect the best and that's what we aim to deliver," said Jason who still regularly flies the jets as a captain.
The Little Jet Company flies from Gloucestershire Airport to European destinations as far as Faro and Corfu. We also have access to a global private jet fleet. Travel can be arranged from the UK to destinations around the world and private jet travel can also be arranged for clients when they are abroad.
"We are proud to have Gloucestershire Airport on our on our doorstep and to be part of the area's rich aviation heritage," said Barry. "The airport is the perfect gateway to the Cotswolds, Oxford, Bristol and beyond,"
Mark Ryan, Managing Director of Gloucestershire Airport, said: "Gloucestershire Airport is delighted with the success of The Little Jet Company.  They have gone from strength to strength, which is indicative of their work ethic and customer focus. The corporate and private travel market continues to grow, and The Little Jet Company is perfectly placed, in the heart of the Cotswolds, to service this growing demand."